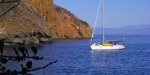 3 DAY LIVE ABOARD COASTAL CRUISING COURSE



JANUARY 17 - 20, 2018

This course is designed to give you experience and prepare you for coastal cruising.
Departing from Oxnard, California we will sail to the Channel Islands
(sometimes referred to as the California Galapagos Islands)


Course topics covered will be:
Preparation for Cruising
Boat Systems
Instruments Check
Navigation
MOB
Mooring & Anchoring
Safety & Weather
Division of Crew Duties

A Navigation Log Book will be included.



We will be sailing aboard a 42' Island Packet.



This is a live aboard trip, and all meals will be prepared by the crew and served on board.



Flights arrive in Los Angeles early Wednesday morning and return to Salt Lake City on Saturday.


Space is limited so we would encourage you to reserve your spot.
Price includes: charter boat rates, meals, on-board sleeping accommodations (including linens),
fuel and mooring fees.

COSTS:
High Season $1095.00 per person
Low Season (November - March) $945.00 per person

Suggested Text
Basic Cruising (US Sailing)

Navigation Log book is included



Contact Louise at 801.636.5204 to reserve your spot.



THE CHANNEL ISLANDS
The Channel Islands National Park

rises out of the blue Pacific just 13 miles from California's
expansive western coastline,
and extends 80 miles out to sea. The 5 islands that compose the park
offer an abundance of unspoiled, and protected wilderness waiting for you to explore. Transportation to the
islands is available year-round only by park concessionaire boats and planes or by private boat.

You will have an opportunity to go ashore and explore the unspoiled beauty of the Channel Islands.